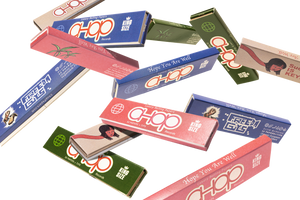 Chop Variety Pack (5 Pack)
Chop Variety Pack contains all 4 Chop Rolling Papers including Organic Hemp & Unbleached Vegetable Fibers.  5 Star quality rolling papers.
Chop Papers the new wave
Perfect size papers + quality organic fibers. Chop papers are the move.
Best papers
My friend randy showed me these papers while on vacation and they are the best. Love the king size, great for big doinks. PBurns smooth, doesn't run. Quality product!
Homie told me he was a homie.
These papers are fucking dope.
Always quality
I go out of my way to order from them. Best papers hands down
Best papers in town
One roll and you got the perfect piece